25 Years of Women at VMI
Social Media Lookback:
25 Years of Women at VMI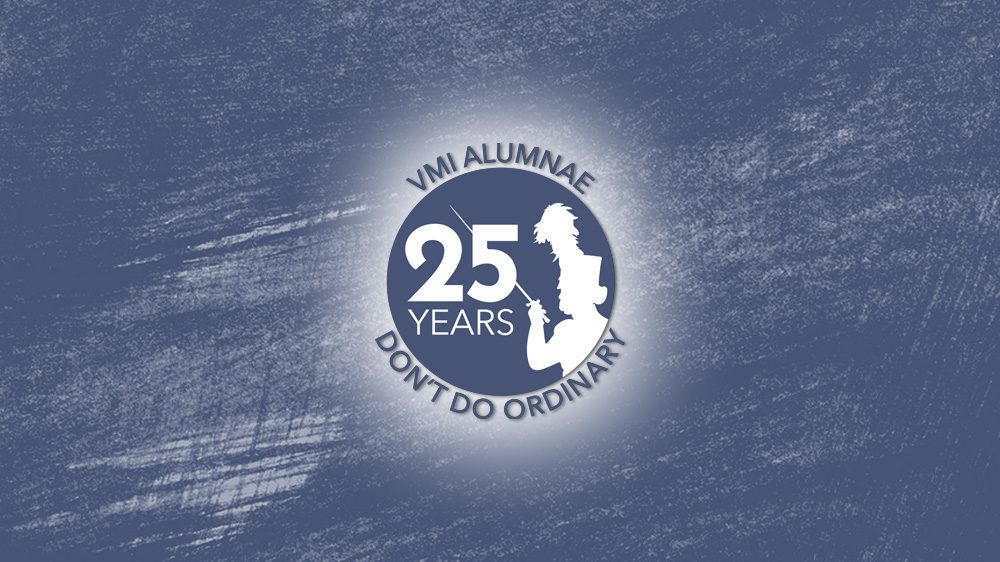 In honor of the 25th anniversary of women at VMI, the VMI Alumni Agencies featured at least one alumna from each class year on social media. These mini profiles were used as a countdown to the celebration events Sept. 8-10. You can read each person's individual story by clicking their name below.
Cadet Emma Cameron '25 is a chemistry major from Chesapeake, Virginia. With three years still left to complete at VMI, the 3rd Class cadet already understands what the challenges presented at the Institute are meant to instill.
"Every class, despite difficulty, is part of pressing up the hill of science. Every platoon run is the ability to prove your own physical potential. Every early morning formation is a chance to greet the day with joy and grit. These hardships are nothing but steps on a path to demonstrate true capability," says Cameron.
One of the greatest takeaways from her VMI experience so far, she says, is the knowledge that "embracing the experience willingly and optimistically is the key to being part of a community of educated and honorable citizen-soldiers."
Major: Psychology
Quote: "[VMI] prepares you for the future, and it builds you up in a way that no other school is going to. VMI will take the time to train you and make you challenge yourself. You're not going to be comfortable at VMl, and if you're looking to actually better yourself, that's exactly what you need."
Major: Chemistry

Quote: "[VMI] has taught me resilience in the face of adversity and how anything is possible when you put your mind do it; it's just about how hard you're willing to work for it."
For Walkup, the journey to becoming a strong leader began the moment she matriculated, and her skills have only grown since then. "As a rat, I observed leadership within my cadre, my dykes, and my peers," she says. "And as I moved up through the ranks, experienced various challenges, failed, succeeded, and everything in between, I have come to a greater conclusion and recognition of not only leadership, but what it means to come from VMI."
What it means, she explains, is to have an "uncommon desire for sacrifice and service," and to "seek to achieve excellence."
As a 1st Class cadet, Walkup has spent the past three years embracing the challenges of VMI and honing her leadership skills. Those experiences have also helped her to form irreplaceable bonds with her brother rats. "One of the most important things about VMI is the person beside you."
Just as VMI is "no ordinary college," its graduates are no ordinary alumni. Christina Skaggs '22 is a prime example of what it means to be a VMI alumna and pursue a path that is anything but ordinary.
A recent graduate of VMI, Skaggs is one of approximately five Class of 2022 Naval ROTC cadets in the nation selected to serve as a surface warfare information professional officer. She will serve two years as a surface warfare officer and will then attend IPO school, where she will learn about cybersecurity, and will then be assigned to a service area as an IPO.
Whereas cadets who are selected for SWO-IP typically major in computer science, Skaggs earned her degree in English from VMI—an experience she calls "one of the best decisions" of her life. "It taught me to communicate, write, and analyze with real world applications," says Skaggs. "As a junior officer in the Navy, I still find myself analyzing things the way the [English, Rhetoric, and Humanistic] department taught me to. … I will carry this with me for the rest of my life."
Another lesson that stays with Skaggs as she begins her Navy career is the ability to work as part of a unit. "As soon as you matriculate at VMI, you are forced to work as a team with the brother rats in your company," she explains. "A [Navy] ship is a huge operation, and no one person can run it alone … VMI taught me very early on to work with people of all backgrounds in order to achieve success." Now, she calls her ability to lean on others in times of need one of her personal strengths.
As a cadet, Skaggs served as the NROTC Battalion S6 officer for public affairs, Bomb editor-in-chief, and 1st Battalion S7 lieutenant for Corps event planning and morale. "These leadership positions from my cadetship are near and dear to my heart because I learned so much about myself from them while serving my fellow cadets and the institution."
Skaggs advises current cadets to take advantage of every opportunity presented at the Institute. "No cadet should ever live their life to the bare minimum. … VMI presents countless opportunities for a person to grow and develop, so take advantage of them every chance you can."
Major: Applied Mathematics
Rank: Ensign, U.S. Navy
Quote: "I came to VMI because I knew that I wanted a career in the Navy. And so, I knew that VMI would give me the best military training."
Major: Civil Engineering
Rank: 2nd Lt., U.S. Air Force
Quote: "VMI has given me confidence when facing difficulties, time management skills, and an understanding that I can always make a difference."
"VMI was the only college I applied to because, in my eyes, there was no other school that could compete."
In high school, Rhiannon McKenna (Moore) '20 was not entirely sure what future career path she wanted to pursue. She did, however, know that she wanted the next phase of her life to present a challenge. "I needed something different," says McKenna.
She immersed herself in the VMI culture, attending every event she could: College fairs, open-houses, sporting events, and panels. "I really wanted to be surrounded by like-minded people. … I knew when I [found] those people, I would have lifelong friendships and unbreakable bonds."
Not only did her time at the Institute grant her those strong connections, but it also provided her the tools to succeed in her life and career beyond barracks. "VMI has given me the mentality to tackle challenges. … I am constantly problem-solving and adapting to sudden changes," McKenna says. "I continue to surround myself with people who challenge me and push me to be a better version of myself—physically, mentally, career-wise … everything."
Major: International Studies, Modern Languages & Cultures
Occupation: CEO, founder of Resilience Through Strength
Quote: "It was obviously not easy; it's not easy for anyone. And it had its ups and downs but it definitely was an experience that is unforgettable and instilled certain values or even just habits that I think have made me successful."
Read More
In a matter of only four years, Emily Fulton '18 went from being a VMI track and field cadet-athlete to making history as the first VMI alumna to serve as VMI Athletics senior woman administrator, in addition to her role as assistant athletic director for operations and finance.
Created by the NCAA in 1981, the SWA is the highest-ranking female in each NCAA athletics department office and promotes meaningful representation of women in the leadership and management of college sports.
"I knew VMI would set me up for success in the long-term," says Fulton on her decision to attend VMI. It is safe to say she was correct.
Growing up in Roanoke, Virginia, Fulton was somewhat familiar with the Institute before she matriculated. Still, her cadetship presented hardships she could not fully prepare for. For instance, 3rd Class year: "The combination of tougher classes and not having your senior mentor to guide you … 3rd Class year is when you really have to figure a lot of VMI out for yourself."
Ultimately, Fulton persevered and says the hardships helped prepare her for life after college. "VMI is hard and the 'real world' is hard," she says. "VMI teaches you that you can do hard things. I think that might be one of the most valuable life skills that one can have."
As for the fondest memories from her cadetship, Fulton says they "lie in the simple moments."
"The late nights in barracks studying and talking with my roommate, BRs always popping in and to say hello and just catching up … I think those are the moments I miss the most looking back."
So, she urges current cadets to relish the time they have together. "Something you don't learn until after you have graduated is the value of the people, the shared experience, and the community. … Spend less time wishing it away and more time taking advantage of it."
"I chose to go to VMI for the camaraderie and to grow as a person," says Partin. "I wanted to do something totally outside my comfort zone and knew that the VMI legacy was something I wanted to be a part of."
As a cadet, Partin participated in projects with the VMI chapter of Engineers Without Borders, was involved with the American Society of Civil Engineers, completed an internship at the Wastewater Treatment Plant in Buena Vista, Virginia, and served as the S5 in charge of public relations her 1st Class year.
Partin was one of only four women in a class of 59 civil engineering majors. Now, she works as an environmental engineer at Fort Lee in Prince George County, Virginia, as part of their energy and utilities branch.
Partin says her fondest memory of her time at VMI is the amount of time she spent forming relationships with her fellow civil engineering majors—particularly, the pranks she and her class would play on one of their professors, Capt. Ned Riester … and his pranks in retaliation. "The civil engineering department was not only an academic major, but it was truly a family."
For more than 180 years, VMI has been producing educated and honorable citizen-soldiers, and for the last 25 years, women have been included among them. One such alumna is Michaela Speas (Wright) '16.
For most of her life, Speas had not considered going to college, as no one in her family before her had done so. However, during her junior year of high school, the possibility of higher education became more appealing, and eventually, she matriculated to VMI.
"One of the biggest difficulties I had at VMI was academics," says Speas. "I excelled in high school but was not prepared for what college academia would look like." She calls earning her bachelor's degree in engineering her "biggest personal accomplishment at the end of those four years."
Besides her degree, VMI prepared her for her career as a bridge inspection engineer in various ways. Speas learned how to work as part of a team, gained leadership experience, and developed the ability to apply an attention to detail in all that she does.
"VMI also prepared me for life after college as a wife, mother, and leader in my church," she explains. "I have been able to put into practice the skills of time management, managing many responsibilities at once, leading others, and consistently finding the endurance that sometimes only comes in doses of one day—or even one hour—at a time."
To current cadets, Speas says to remain focused on the bigger picture. "Decide what your goals are and what matters the most to you and then do that to the best of your ability … focus on the relationships and opportunities [that you have] the privilege to experience."
The relationships and "unscheduled" memories formed at the Institute remain some of her most cherished: Going for a run with her BRs, snowball fights or tossing a softball around on the Parade Ground, or going for a dip in the Maury River.
"The relationships you have with those around you are what you will see when you look back and remember what college was like. … live fully so that when graduation day comes, you can know you lived and strived for what really mattered and that you have reached the starting line of the next greatest adventure."
Major: Psychology
Occupation: Special Enforcement Officer, Lexington Police Department
Quote:  "I chose VMI because I knew it would be a challenge. When I visited post, I immediately knew it was where I needed to be. … I could see it wasn't anything like the other schools, and it was exactly what I was looking for."
Major: Modern Languages & Cultures
Rank: Capt., U.S. Army
Quote:  "As an 18-year-old female, I had doubts that the military was right for me. Not only did VMI prepare me well for my military career, but having the option to familiarize myself with what a military commitment would be like [to make] the right choice for me was crucial."
Structure and discipline are two characteristics Sabina Crites '14 associates with her VMI education. She knew she needed both in a college and was confident the Institute would provide them. "I went to every single class because I didn't have the choice to skip it or not go because I just didn't feel like it," she says. "I was able to learn responsibility for my actions and how those actions affected not only myself, but others." Now, Crites is a field artillery captain in the U.S. Army Reserve and contractor with General Dynamics Information Technology and uses the experiences of her time as a cadet—both good and bad—in her everyday life.
"Hold onto your 'why,'" she says, when asked for advice to pass on to current cadets. "What do you hope to gain by graduating from VMI that you can't get some place else? If you can remember your 'why' and use that as your mantra on the tough days … the days to graduation will go quickly."
Another piece of advice: Network with fellow VMI alumni. "We have this small community of people who went through a similar experience that no one else can relate to," says Crites. "I truly do not know who I would be without that bond and connection with the school and to my brother rats from years past and present."
Major: Civil Engineering
Occupation: Assistant Project Manager, LJA Engineering
Quote:  "After graduating I realized that I could do anything I set my mind to. … I have been able to impress employers, supervisors, clients, and even friends because I can handle challenges in stride. VMI has been a foundation of confidence; If I can graduate from there with my head high, I can do most anything."
Major: Psychology
Rank: Capt., U.S. Army Reserve
Quote:  "Whether it was learning to effectively lead and work seamlessly with men as the only female in my first Army unit or having a distinct level of discipline many of my peers lacked, I credit much of my success in the Army to the lessons I learned as a cadet. … I am excited to see so many talented women continuing to pave the way for the next generation."
Major: International Studies
Rank: Lt. Cmdr., U.S. Navy
Quote:  "While facing adversity early on in my Naval career during flight school, I was able to lean on the perseverance and strength I learned during my cadetship. … Today, I am thriving in my Naval career as an electronic warfare officer in the EA-18G, my dream job in the Navy."
Meet VMI alumna Racheal McElligott (Toman) '10.
McElligott is no stranger to hard work, having earned her Bachelor of Science degree in electrical and computer engineering. "Life was not easy academically at VMI," she admits. However, enduring the challenges of her cadetship are what prepared her for life after college. "That, combined with the day-to-day rigors of on-post life and requirements of cadets made the first few years after graduation seem a little bit easier."
McElligott is now a senior estimator for Turner Construction Company—a career path she credits in part to the VMI alumni network. She obtained her first job through the alumni network and transitioned into her next job thanks to a recommendation from a brother rat. "My life would not be the same without the alumni network," she says. "It is literally why I am where I am and who I am today."
To current cadets, McElligott says to take advantage of all opportunities presented during their cadetship. "Any club or resource that will prepare you for the next step that you've been thinking about—do it. You won't regret trying it, only the 'what ifs.'"
Major: Modern Languages & Cultures
Occupation: Store manager, Kroger
Quote:  "VMI doesn't build character; it can only reveal it. The VMI experience tests you over and over, revealing who you are at your core. At VMI, I developed the internal fortitude to stand up for what's right while learning to respond to pressure by encouraging those around me."
As of July 2022, Lt. Col. Katherine "Katie" Kuc (Bopp) '08 is the commander of the 81st Force Support Squadron at Keesler Air Force Base, Biloxi, Mississippi. Kuc leads the most diverse squadron on base, overseeing 54 facilities, more than 100 activities, and 852 military, civilian, and contract personnel. She is directly responsible for the development and delivery of quality of life enhancing policies and programs in support of Team Keesler's two wings and multiple mission partners, supporting nearly 5,000 military and 15,000 retirees and dependents.
"VMI has had an incredible influence on my life after college," says Kuc. "I learned discipline, perseverance, and how to be a person of character and competence. I also gained healthy habits like physical fitness, initiative, and building mental resilience, which allowed me to tackle challenging obstacles throughout my career."
Before she became a squadron commander, Kuc served as a flight commander, deployed joint operations officer, and squadron deputy director. She also held two assignments at Headquarters Air Force (Pentagon) and served as a White House social aide during the Obama Administration.
As a VMI cadet, Kuc took on various leadership roles, including serving as regimental S5 captain during her 1st Class year, co-captain of the club softball team, and Ring Figure chair.
One of the most valuable traits she gained during her cadetship, she says, is toughness: Physical and mental.
"As a rat, I could barely run a mile," Kuc explains. "By the time I graduated, I qualified for and ran in the Boston Marathon in 2008. I've run in several marathons and long-distance triathlons since. I owe this foundation of fitness and mental perseverance to VMI and my Rat Challenge cadre!"
Now, Kuc imparts those lessons in resilience and perseverance upon the next generation of the U.S. Air Force. "I am able to teach these skills to my airmen and set a culture of excellence, keeping standards high for one of America's most trusted professions: The military."
Major: Economics/Business
Occupation: VP Operational Excellence, StockX
Quote:  "[VMI] provided me with an opportunity … to navigate being a woman in a male-dominated environment. The VMI experience has been foundational to my successful Marine Corps and corporate careers."
Major: English, Psychology
Rank/occupation: Maj., U.S. Air Force; clinical psychologist
Quote:  "VMI prepared me … to be a go-getter. After completing the rigors of academia and physical fitness at 'The I,' I know I can accomplish anything!"
Major: Chemistry
Rank/occupation: Cmdr., U.S. Navy Reserve; senior production engineering manager, Boeing
Quote:  "My only advice is to keep going. … Hang onto the focus and strength that got you through the Rat Line because you will need it in the military, the corporate world, and as a citizen."
Major: Psychology
Occupation: Customer engagement manager, Mirantis Inc.
Quote:  "One of my fondest memories at VMI was studying calculus as a rat late at night … when a large group of upperclassmen took pity on a few rats struggling with an assignment. Suddenly, there were about 12 cadets trying to explain to two rats how to solve an equation. There was always someone in your corner, even if you didn't expect it."
Major: Biology
Rank/occupation: Lt. Col., U.S. Army; general and burn surgeon, U.S. Army Burn Flight Team chief medical officer, and U.S. Army Institute for Surgical Research chief medical officer
Quote:  "There was a structure [at VMI] that I knew I would need in college in order to succeed because I think, had I gone to a non-regimented college, I would have gotten lost in the shuffle."
Read More
Major: English
Occupation: Registered Nurse
Quote:  "I can't imagine who I would be without my VMI experience. … My experiences made me who I am today. I wouldn't trade that for anything."
"Life at 'The I' was not always roses and a sense of wonder, but rather adversity, challenge, and struggle, mixed with moments of triumph, pride, and life-lasting bonds."
As we prepare to celebrate the 25th anniversary of women at VMI this weekend, we are introducing you to Lt. Col. (P) Angela Scott (Winters) '01, an alumna from the first co-ed class to spend four years at VMI.
Scott currently serves as America's First Corps' chemical, biological, radiological, nuclear, and explosives (CBRNE) chief, overseeing CBRNE operations and partnerships across the United States and throughout the Indo-Pacific.
"VMI was a game-changer," says Scott. "I entered VMI with a drive to succeed but graduated with things far more important for the future—a mix of core values that, to this day, few others around me possess: Loyalty, truth, resilience through adversity, empathy, power of the team over the individual, and a magnified sense of duty and responsibility. These superpowers were, and still are, fostered by the VMI community and I call on them every day while serving my family, friends, community, and nation."
Upon graduating with a degree in chemistry from VMI, Scott commissioned into the Reserve Officer Training Corps as a chemical officer. She has been assigned to eight military installations, worked and advised in eight countries, and worked in positions from platoon all the way up to the Department of the Army. She has had two separate deployments to Operation Iraqi Freedom, with experience working with Joint and Multi-Component organizations.
Part of Scott's focus-areas and research center around gender issues, and in 2015, she attended the Army's second co-ed Ranger Training and Assessment Course as a part of the Army's preparation to open Ranger School to women.
"I work in a male dominated field where, at times, women are overlooked and our abilities underestimated," says Scott. "As a young woman struggling to fit in … I never rocked the boat."
With more than two decades of experience now under her belt, Scott has changed her tune, urging women to step forward and be heard.
"We have a responsibility to contribute our perspectives and voices. No more standing in the shadows—it is time to sit at the table in your high heels … or combat boots. Unleash your sparkle. Speak your thoughts out loud. Publicly mentor and support the women around you. Society needs strong women to step forward, and no one is stronger than the women of VMI."
Major: Psychology
Rank/occupation: Col., U.S. Army; Director, Commander's Action Group, U.S. Army Cyber Command
Quote:  "The most important thing I learned from VMI is how to withstand adversity. … The ability to be comfortable being uncomfortable enables decision-making and persistence in difficult situations. The experience at VMI has helped prepare me for ambiguous and challenging situations in the military."
Major: Economics/business
Occupation: Director of Contracts
Quote:  "VMI helped me prepare for life and my career after college by truly [teaching me] to focus on balance. At school, it was education, athletics, and military commitment. Post-graduation, it's been work, athletics, and relationships. I know that when I decided to go back to school full time for my PT Assistant degree or when I decided to train for my Ironman triathlons, I wouldn't have been able to accomplish those goals without having the past experience of VMI to know how and when to give each of those aspects of my life the attention they needed [in order] to stay balanced and be successful."
Major: Physics
Rank: Lt. Col., U.S. Air Force Reserve
Quote:  "VMI has taught me so many things, such as the value of integrity, perseverance, continual self-improvement, reflection, and leadership—to name a few. It is on the foundation of the principles learned and reinforced at VMI that I have been successful."
Major: Biology
Occupation: Medical officer, U.S. Dept. of State
Quote:  "Within 25 years of women at VMI, we've also had only 23 years of Internet in barracks, so we made our own entertainment. I recall Austin Powers was popular at the time and the Echo company ladies in the room next door had the soundtrack on CD. I remember the theme song came on and we all started dancing around the room and up on our desks … until the TAC officer walked in and we immediately stopped and acted like nothing was going on. It sounds pretty boring now, but it was a very silly, joyful moment that makes me smile to this day."
Victoria Ferris Social Media and Communications Strategist

The social media and communications strategist is responsible for creating compelling, audience-appropriate, multi-channel content for social media, and for monitoring the VMI Alumni Agencies' social media accounts. The strategist supports all communications efforts, including email marketing deployment and training, website updating, and video editing.
Read More 25th Anniversary Stories